Order your personal copy of O'Halloran's Will today through Amazon or Barnes & Noble
(click on logos below for purchase information)
A DIABOLICAL LAST WILL CREATES CHAOS IN THE COMMUNITY RESULTING IN THE MOST HILARIOUS SPOOF SINCE A CONFEDERACY OF DUNCES.
The assets of the surprisingly valuable estate of a small time, eccentric lawyer become the target of the unscrupulous and greedy in the bucolic town of Pine Ridge, North Carolina, setting off a chain of events no one could ever have even dreamed of, let alone imagined. It's almost as if the wily old lawyer is playing one last trick, resulting in a rollicking and unpredictable ending.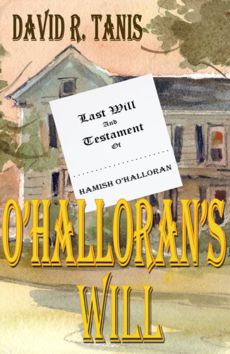 A barely successful street lawyer dies but puzzles the townfolk by leaving an unexpectedly large estate to either a church he never attended or to his dogs. David Tanis uses his experiences of almost half century as a judge and a trial lawyer to craft this story of greed and stupidity by those trying to get their hands on the antique gold coins, the winning lottery ticket and an ancient stock certificate now worth millions. The usual suspects are right out of central casting for a 1930's court house drama. A quick read. This well crafted story will educate and leave the reader smiling and laughing out loud.—Tom Keith, District Attorney (Ret), Forsyth County, NC.
David Tanis gets it just right. The small Southern town of Pine Ridge comes alive, and so do the characters.- living and dead. Tanis, a lawyer and former judge, makes the courthouse crowd come alive with a light touch of authenticity. There's plenty of wry humor in this fine novel, along with plot twists and turns to keep the reader intrigued. Oh, yes, there's an element of dark mystery that has one wondering. A wonderful story that readers will find totally engaging. Sit back and enjoy.—Joseph L.S. Terrell, author of the Harrison Weaver Mysteries.
"Tanis has crafted a fascinating legal tale. He has constructed a riveting legal thriller that is both smart and funny. Engaging from the beginning until the end, Tanis left me wanting more."—William B. Reingold, Chief District Court Judge (Retired), Twenty-First Judicial District, North Carolina
Order your personal copy of today through Amazon or Barnes & Noble
Strange Goings on at Mother Natures
(click on logos below for purchase information)
AN UNUSUAL RASH OF MURDERS LEADS BUMBLING SMALL TOWN LAWYER HAMISH O'HALLORAN TO GO TO PLACES HE NEVER GOES AND TO DEVELOP A ROMANTIC INTEREST.
"...Vivid characters...fast paced and often hilarious tale of murder and mayhem...once you start reading it you will not want to put it down or stop laughing." - Thomas Keith (District Attorney (Ret.) Forsyth County, NC (Winston-Salem)
When patrolman Wayland North finds a homeless man rifling the already empty pockets of a corpse in an alley, luckless lawyer Hamish O'Halloran is appointed to represent him. The strange saga that follows portrays the squalid underbelly of the idyllic little town of Pine Ridge, North Carolina as two more murdered corpses are discovered. O'Halloran becomes dangerously involved as detectives Crouse and Frank X. Farrel work with little evidence to connect the murders and uncover the nefarious secrets of Mother Natures, a restaurant/bar cum brothel, whose subliminal connection to the murders is exposed. A satirical parody rife with vignettes of pitiable and pathetic courtroom characters as O'Halloran plies his trade, this highly amusing story, characterized by pathos and bathos, is a delightful follow-up to the first Hamish O'Halloran mystery, JUST ADD WATER.
Order your personal copy of today through Amazon or Barnes & Noble
Just Add Water
(click on logos below for purchase information)
BUMBLING SMALL-TOWN SOUTHERN LAWYER HAMISH O'HALLORAN, WHOSE SHIP HAS LONG SINCE SAILED, MUDDLES HIS WAY THROUGH ONE CLOSE CALL AFTER ANOTHER TO SOLVE A BIG TIME DRUG CRIME.
"David Tanis knows...every last molecule of a court room...vintage small town hijinks at its best." - Joseph Bathanti, Poet Laureate of NC, Prof of English, Appalachian State University
The cozy village of Pine Ridge, North Carolina is beset by an epidemic of the dangerous new drug Murti-Bing which renders its users automatons. After being ostracized from Federal Court for twenty years, Hamish O'Halloran, a sad sack lawyer, is appointed to represent a "notorious drug dealer." Thus begins his sordid involvement in a conspiracy involving numerous oddball characters. An inept investigator, he finds himself in dire straits, as his suspicions bounce from one potential conspirator to another.
"...brings vividly to life the small North Carolina town and the characters..." - Joseph L.S. Terrell, author of Not Our Kind of Killing, and other Harrison Weaver mysteries
"...completely unpredictable ending...compelling, and fun read..." - Henry ("Hank") P. Van Hoy, II, Martin & Van Hoy, LLP, Attorneys at Law, Mocksville, NC.
"...characters right out of a gritty small town Southern court room...a fun read..." - Tom Keith, Forsyth County N.C. district Attorney, Retired.